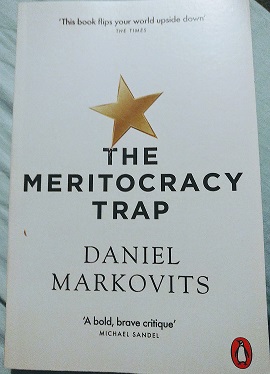 The Meritocracy Trap by Daniel Markovits, is an eye-opening book which answers the burning question, "Why everything is so screwed up".
Daniel Markovits is a Professor of Law at Yale University and it shows: The Meritocracy Trap has 100 pages of twin-columned notes which deepen the argument in the text.
The term "meritocracy' was coined in 1958 by British sociologist Michael Young, as a warning that scientific testing would identify talent at an early age and train children for preordained jobs. Markovits says that Young could not foresee that the meritocracy would favour nurture rather than nature – train the children of the rich to develop desired skills and, "bend the arc of innovation to favour the skills that it produced."
It's best to start at the back and read the Postscript To The UK Edition first. Markovits argues that in the United States, workers without degrees such as auto workers are included in the definition of middle class, whereas the British would call an auto worker 'working class'. Conversely, many of those who Markovitz defines as the meritocratically educated professional elite would be called 'middle class' in Britain. In this way, Markovitz argues that the privilege of the elite is disguised in Britain. "British meritocrats enjoy the privileges without the responsibilities."
The British left associates meritocracy almost literally with aristocracy and misses the appeal of meritocracy. "By treating meritocrats as skating, rather than grinding their way to the top..it gets the new elite's back up."
For Markovits' argument is that meritocracy excludes the 'middle class' and harms the 'elite. "The young rich today diligently study and doggedly train" for the opportunity to "work with grinding intensity". for absurdly long hours. "No-one need weep for the wealthy. But ignoring how oppressively hard the rich now work is equally misleading."
Elite schools can demand five hours of homework a night. Once they have achieved an elite job, the meritocratic worker is expected to work long hours. Exploiting their human capital, "they are expected to become an asset manager" of their own skills and knowledge.
Markovitz tracks how middle-class life has been gutted and the idea of moving from production to management is now implausible. A firm like McDonalds which, in the 1960's, employed 70 to 80 workers at each franchise to make the food they sold now has less than half the workforce – deskilled because food is now pre-packaged. The only skill now lies in developing new systems and equipment. Similarly, at a supermarket chain like Safeway the chance to progress from bag packer to chief executive is now non-existent. Middle-managers were eliminated by consultants in the 1980's following leveraged buy-outs in search of the kind of manager who could squeeze further money out of the business in order to pay off the cost of the buy-outs.
Markovitz paints a picture of a society which is poisoning itself – allocating unequal rewards to a self-perpetuating elite which has no chance to really enjoy those rewards – and denying fair reward or fulfilling employment to the deskilled middle class. Markovitz attributes the success of Trump and Brexit to this dispossessed middle class. "When these voters heard the bipartisan elite condemn Trump as boorish and unfit for office, they knew that the elite thought the same of them."
The Meritocracy Trap by Daniel Markovitz – Penguin 2019 ISBN 978-0-141-98474-2