The Bodies Beneath: The Flipside of British Film & Television by William Fowler and Vic Pratt. Strange Attractor Press.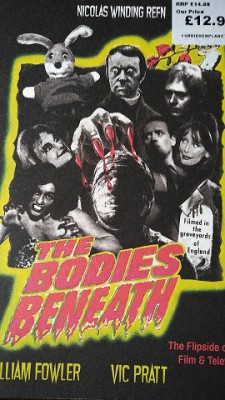 Written by the originators of the British Film Institute's Flipside Initiative, later immortalised as a series of DVD/BluRay sets, this 400 page book reviews the more obscureBritish cult movies and TV.
In their introduction, William Fowler and Vic Pratt question whether, "the original 'cult' films, as first celebrated by such pioneering film-writers as Danny Peary back in the 1980's (have) more recently become art of the mainstream canon?" They go on to admit that The Bodies Beneath is, "part of our own personal mission to figure it all out in an enjoyable way, rather than allowing traditional cultural guardians or marketing departments to decide for us."
Although segregated into thematic chapters, The Bodies Beneath is probably best read by starting at the index, to see what will catch your eye. Peter Falk: Page 42 – reflecting, "I have never played a scene with an actor who commanded my attention the way Pat(rick McGoohan) did." Terry & June: Page 311 – Nigel Kneale's Kinvig "more like a cross between Terry and June and Steptoe and Son" than( Hitchhiker's Guide to the Galaxy)".
Perhaps predictably, the subject's range from exploitation film-maker Andy Milligan to forgotten sex comedies like Under the Doctor (Barry Evans, who had left the Doctor in the House TV series allegedly made this film to finance a theatre company) ("the sex factor diminishes as the film goes on, like a drunkard's member"). But unexpectedly, there's a penetrating article on Sooty and the difference between the psychological depth of the Harry Corbett episodes, and the more corporate productions after son Matthew was forced to take over the family business. We're told that musician Steve Race heard Harry, along with Sooty in an adjoining hotel room in 1953, howling with laughter when he first thought of Sooty hitting him on the head with a hammer. Watching a 1957 episode we're told that "the humour escalates to even more absurd, dreamlike and childish extremes with seemingly no limitations on what is a 'good influence' on the kiddies."
Among the other delights are John Bowen's Robin Readbreast, Wendy Toye's The Stranger Left No Calling Card, and a fascinating examination of Cooking Price-Wise the legendary 1971 Thames TV series in which horror king Vincent Price instructed UK housewives how to cook for a gourmet and make a chess set out of cheese. In the interests of full commercial disclosure it's worth pointing out that the book also includes articles on Colin Baker's ill-fated reign as Dr Who and Patrick McGoohan's outing as Danger Man (including the claustrophobic Don't Nail Him Yet in which Drake impersonates a socially-awkward schoolteacher to shadow reserved defector John Fraser – "Danger meant earning someone's confidence through a shared shyness.").
So what's 'The Bodies Beneath' like? It's like a big pie – a big Christmas Pie that you buy at a pub. You don't know what the hell a Christmas pie is but you figure you'll give it a try. And once you've prised the crust away and run your fork through it, you say what about that? A bit of Will Hay and 'The War Game', 'All The Right Noises' and 'Electric Dreams' and that BBC documentary Dan Farson made about his Uncle Bram Stoker and vampires. That's what I call a Christmas Pie!

The Bodies Beneath – Strange Attractor £15.99