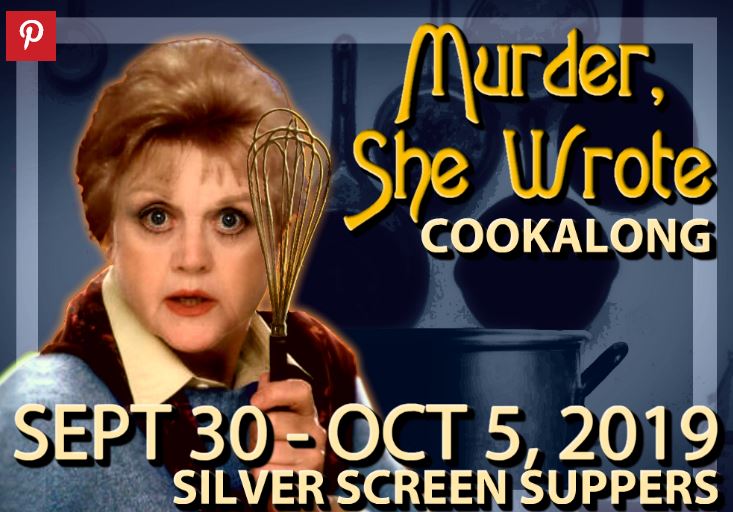 As far as I know, Patrick Wymark never worked with Angela Lansbury. But, I thought it might be fun to take part in the Murder She Wrote Cookalong, organised by Silver Screen Suppers, and noticed that one of the recipes was associated with Richard Johnson.
Johnson had, of course played Andrew Aguecheek to Wymark's Toby Belch at the Royal Shakespeare Company, and they'd also co-starred on TV (A Question About Hell 1964) and film (Operation Crossbow 1965). It also turned out that Johnson's episode of Murder She Wrote – It Runs in the Family – had co-starred John Standing from The Psychopath (1966). So it seemed all the stars were aligned – just maybe not in the right direction!
The recipe, Four Time Chicken , gets the most out of its ingredients – I believe Richard Johnson set up a hotel/restaurant at one time, so that might explain the utilitarianism. Having recently read Eggs or Anarchy , the biography of Lord Woolton – who ran the Ministry of Food during World War 2 – it certainly fits in with Johnson's role as Duncan Sandys in Operation Crossbow . And Operation Capon has the appropriate Shakespearean ring – I can just imagine Richard Johnson doing a power stance in the kitchen – "A Capon – fetch me a fine Capon!"
The recipe is written in a leisurely style (I believe by Albert Roux) and gets four meals out of one chicken. I tried to follow it over a weekend, adopting the laid-back style of the recipe but also adopting the inquiring scientific approach of Richard Johnson as Dr Markway in The Haunting. I had two aims: to get something edible out of it, and to see how achievable the recipe was.
Meal One: Chicken Casseroled with Sweetcorn and Peas: Although the recipe recommended a free range chicken, I started out with a Co-Op Medium Chicken at £4.50. I launched with what I thought was full Shakespearean gusto at 5pm on Saturday, and quickly realised that dissecting a raw chicken is more time consuming and bewildering than cutting apart a cooked chicken (serial killers take note!). I probably left more flesh on the carcass than the urbane recipe intended, and this affected the relative productivity of the following three recipes.
About an hour later (!) I was finally browning the chicken pieces in butter and olive oil. It all seemed to be going well as I got the chicken stock, onions and garlic brew together, and set the chicken simmering in a casserole. But then I had a crisis of confidence: thought I'd misread the recipe, when I hadn't, threw in some ingredients at the wrong time and then concentrated on making the mashed potato rather than checking the pot.
If I'd lifted the lid, I'd have noticed that that the liquid was boiling dry and I'd have been able to put some water in. So for my first attempt – although the chicken was moist, there was no gravy left. If I had adopted the style of Dr Markway in 'The Haunting' this was the point where I let Julie Harris drive into the tree.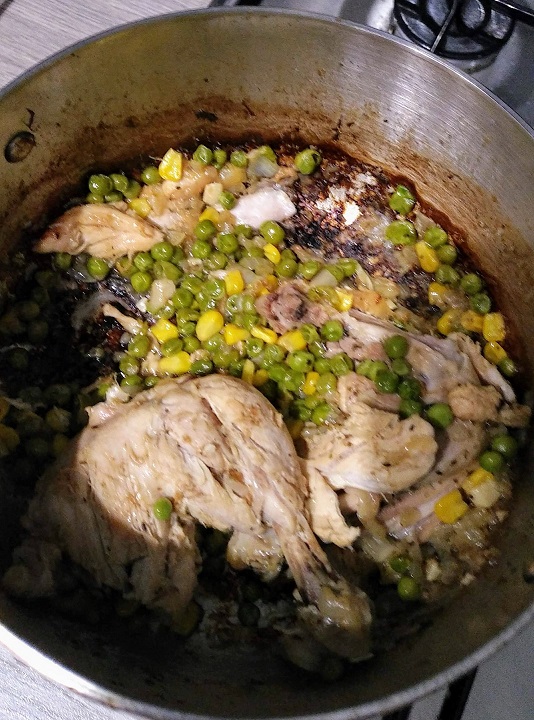 The chicken was tasty enough – but not as expected. In the spirit of experimentation, I bought two free range, corn fed chicken breasts and four thighs from Tesco for £8.84 and tried again. This time I got the timings right and kept a careful eye on proceedings. This delivered – not just a tasty tea – but the prescribed encroachment of gravy.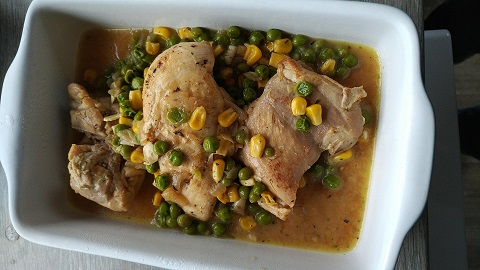 And that's important because the recipe says that on Sunday morning you should, "Look into the casserole. You will see that the chicken pieces you didn't eat last night are embedded in a rich, jellified sauce. Resist eating the whole lot for breakfast!"
Meal 2: Chicken salad with sweet curried sauce. I was a bit dubious about this, as I can't abide curry. However, I used Tesco Mild Curry Powder and followed the recipe to mix it into yoghurt etc. Together with the chopped up meat from last night's casserole, it produced a salad that surprised me. "If you are like me you might want a long cool glass of bitter beer too," the recipe said, so I had a bottle of Larkin's Bitter from Bricknell's Brewery (Larkin was, of course, a friend of Kingsley Amis, who wrote A Matter about Hell in which Wymark and Johnson played brothers – only connect).
To cut a long story short, I'd underproduced the casserole gravy on my first attempt, and probably left more on the carcass than I should. The recipe directed the meat should be cut from the leftovers, and the bones, skin and carcass be simmered in a pot with carrot, onion, celery and a stock cube. After I'd strained all this, I was left with much less broth than the "several pints" the recipe predicted, and much more meat! The recipe suggests you should use this meat and vegetable remains for pet food, but that didn't happen here! This was really a Five Time Chicken!
Meal 3: Hearty Lentil Soup with Cheese Croutons.
I started this at 5.28PM, channelling Richard Johnson as Bulldog Drummond in Deadlier Than The Male. "OK, we went off-course earlier, and now we have less than a litre of  stock. So keep your head, top it up with water and then drop in the lentils". Another surprise! The lentils became mushy sooner than scheduled! I checked the packet and it gave a shorter cooking time than in the recipe. But that was a good surprise! Not only was the soup ready early, there was enough left over for Monday lunch! Make that Six Time Chicken!
Meal 4: Chicken Soup with Baked Potatoes and Salad.
I launched this one at 5:30, Monday teatime. Due to the earlier mishaps, I had more meat and less stock than the recipe indicated, so had to top it up with a chicken cube. But, to be honest this was pretty straightforward and I spent longer waiting for the potatoes to bake. It was a pretty satisfying evening meal.
So, in the end Operation Capon was a success. It fulfilled the dramatic arc – exposition, secondary conflict, climax and resolution – and it got a hell of a use out of one chicken.