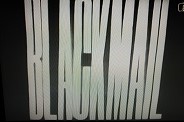 Talking Pictures TV recently broadcast Vacant Possession, an episode of the 1960's Rediffusion series, Blackmail. Written by Leon Griffiths (creator of Minder) the episode appears to be a lone survivor from the decimated Rediffusion archive.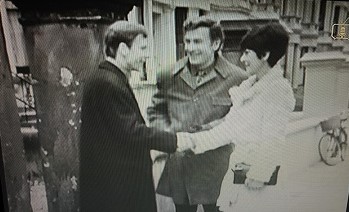 First shown on 12 December 1966, the episode deals with what the pre-publicity calls, 'an up-to-the-minute social trend, converting a drab property into a fashionable one. The play is set in a London street, "coming up" in tone and standing. A modish young couple (he in advertising, she in fashion designing) played by Richard Gale and Elizabeth Wallace want to buy one of the decaying "period" houses for conversion. But there is a snag. A sitting tenant. In the best room of the otherwise empty house lives Mrs Pearce (Daphne Heard) old, difficult and disgustingly dirty. Her presence and her squalor lower the tone and the value.'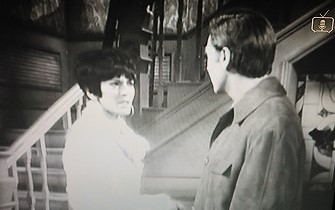 Elizabeth Wallace, who had played Alan Dobie's long-suffering secretary in the last series of The Plane Makers* , would go on to play the White Witch in Rediffusion's 1967 adaptation of The Lion, The Witch and The Wardrobe. Here she seems to be gearing up for that role with her performance of a self-conscious liberal who boasts of letting her daughters play with "working-class children…until they go off to school." Richard Gale, as her ineffectual husband, had co-starred the year before in Leon Griffith's adaptation of John Brunner's Some Lapse of Time for BBC2's Out of the Unknown.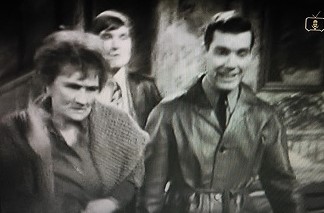 Barr (Frederick Peisley), the current owner of the house, is desperate to sell. He offers Mrs Pearce £500 (about £10,000 in today's money) to move, but she refuses. Barr phones an unseen fixer who arranges for two local thugs, Vic (John J. Carney) and Lew (Geoffrey Hinsliff) to make life uncomfortable for the sitting tenant. But Mrs Pearce is tougher than they think.
Griffith's script is sharply humorous and unsentimental. While Barr has clearly neglected his responsibilities as landlord, Daphne Heard as Mrs Pearce is hardly the ideal tenant. And while Gale and Wallace's characters are exploitative, we also see how easily they are manipulated by Brian Murphy's outwardly affable estate agent.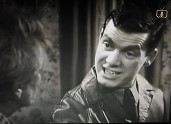 Geoffrey Hinsliff, as Lew, demonstrates the manic range he would later deliver in Brass and Don Brennan's final unhinged exit from Coronation Street (1997). Both Lew and Vic are fore-runners of the semi-criminal chancers, Terry would often see off in Minder. But it is also easy to imagine Arthur Daley being their unseen employer. Griffith's script dances between comedy and tragedy, showing the knife-edge balance between the two. The chemistry of people can produce different reactions – explosions or transformations – based on a change in circumstances.
Talking Pictures TV will screen the episode again at 6pm on Friday 22nd November.
*To do a full 'DrWhofan' on it, Brian Murphy appeared in the Plane Makers episode 'Costigans Rocket', Geoff Hinsliff appeared as Hammy, a factory hand in The Plane Makers episode 'Don't Stick your Head Out', Frederick Peisley appeared as Richard Marsham in The Plane Makers episode 'Bancroft's Law' , Leon Griffiths wrote 'You Can't Beat the System' for the first series of The Plane Makers and Peter Moffatt directed 3 episodes of the final series of The Power Game