Lights, Camera, Merton! by Clive Whichelow is one of those books I wish had been around 30 years ago. Back in the 1980's, when The Edgar Wallace Mysteries and Scotland Yard were repeated in earnest on ITV and Channel 4's late night schedules, it gradually became clear that there was a production line at work. But while the names of Elstree and Shepperton and even Ealing Studios were still well-known, Merton Park was a mystery.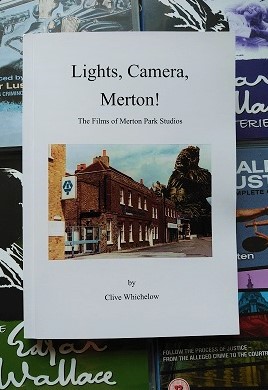 In those pre-internet days it was possible to piece together the continuity of production by paging through film catalogues in reference libraries and picking out non-series films like Timeslip (1955) and Ghost Ship (1952) but there was no single work of reference to put it all in context.
Thankfully, Lights, Camera , Merton! is now here to tell the story of that little-known studio. As Clive Whichelow says in his introduction, "One reason people have been disparaging about Merton's output is that they simply do not know what was produced there." The book's 176 pages provide a comprehensive rundown of movies produced at the studios between 1934 and 1967. After 1967, movies were occasionally made alongside TV commercials into the mid 1970's, but details are more sparse.
The book has very brief details about the origins and ownership of Merton Park. There is very little detail about the management of the studios and production background. Nevertheless, there is a lot of interesting information in the individual entries for each movie. The book is divided into separate chronological sections for Scotland Yard, the Edgar Wallace films, Scales of Justice , some early Children's Film Foundation pictures, and general movies such as Little Red Monkey and Konga.
Lights, Camera, Merton! is available for £9.99 through the Renown Films website.