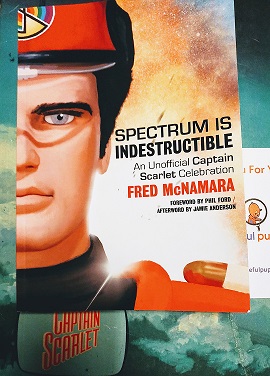 Originally conceived to mark the 50th anniversary of Captain Scarlet and the Mysterons' first TV broadcast, Spectrum Is Indestructible shows the wisdom of not being held hostage to journalistic conceits like anniversaries.
Fred McNamara quickly realised that he wasn't going to be able to squeeze, "nearly 20 years of ideas, theories and general musings" into the original timescale and his publisher Chinbeard Books wisely agreed to wait. Spectrum Is Indestructible is more than comprehensive – 200 pages of closely packed type, written with enthusiasm but written well.
Captain Scarlet and the Mysterons was unique among TV shows in being at the centre of a vast merchandising campaign of toys, books and comics. As it wasn't entirely a financial success, Britain didn't see anything like it again until Star Wars. Fred McNamara recognises that, "in this pre-digital age, it's remarkable to witness this meticulously crafted promotional campaign." and covers both the TV show and the comics and annuals which both heralded and succeeded it.
McNamara devotes a full chapter to each episode of the TV show, delivering insightful commentary that inspires the reader to go back to the DVD's. Captain Black is often characterised as an unemotional zombie, for instance, but the review of Operation Time highlights the latent sadism in his pursuit of Dr Magnus, "fantastically executed in terms of pace and visuals..the three minute sequence is perfectly delivered…it's not enough for Black to shoot Magnus…there has to be a prey to worry, petrify."
While McNamara appreciates the highlights of each episode, he is also well aware of the series shortcomings. But while he often skewers plot holes and absurdities, he does so with a sense of affection and perspective and is more than appreciative of the series as a whole. He even comes up with ideas that might have benefitted the show: in Spectrum Strikes Back, for instance, what if the hapless Captain Indigo had been another Captain Brown. "Wouldn't that have been a great running gag? Every time Spectrum hire a new Captain Brown, he falls prey to the Mysterons."
You can find details of Spectrum Is Indestructible at the Chinbeard Books website https://www.chinbeardbooks.com/new-beard