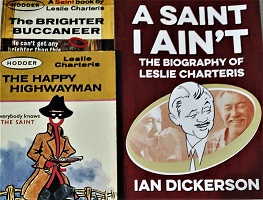 The Saint I Ain't by Ian Dickerson (Chinbeard Books) relates the long and elusive life of Leslie Charteris, biographer of the fabulous Simon Templar. "What is interesting is either classified or scandalous", said Charteris in 1969, declining to help a would-be Boswell with anything that should be printed less than 25 years after his funeral. As Charteris passed away in 1993, one can only speculate that some heavenly intervention finally brought this volume to fruition.
The glimpses of Charteris' life we were allowed in the past gave an enviable image of a character travelling the globe while dictating the latest exploits of his hero. A real-life template for Peter Wyngarde's TV crime fighter Jason King. Ian Dickerson has excavated a more complex set of facts. Coming at a time when the ungodly seem determined to corral the multitudes into boxes, he presents a picture of a man who would not be boxed.
Leslie Charles Bower-Yin was born in Singapore in May 1907. His father, Yin Suat Chwan had studied medicine in Michigan and Toronto before completing his studies in London. There he met and married Lydia Bower, the daughter of his landlord in New Cross. Mixed marriages were completely taboo in those days – Leslie and his brother were outcasts as a result of everyday racism – and in 1919 their mother ended her marriage, enrolling the boys in a British public school.
Leslie had already learned to take refuge in the swashbuckling fiction of Chums magazine and determined to become a writer, despite a lack of encouragement from some of his teachers. After the obligatory period of poverty, Leslie Charteris (as he had become) finally sold a novel (X Esquire) to Ward Lock in 1927. The following year, he published his first Saint novel, Meet The Tiger. Yet, even having established himself Charteris was restless. He gradually established himself in America, where the pay-checks were bigger, although it took much determination and the wooing of connections to overcome the Chinese Exclusion Act under which people, "were excluded from permanent residence if they had 50% or more oriental blood." However, Ian notes that , even after becoming an American citizen Charteris missed bitter so much that, "he would jump on a plane to London, drink a pint or two of English beer and then fly back again."
In an early example of attempting to sweat his assets Charteris retained copyright in The Saint and tried to maximise returns from every form of exploitation. Charteris 'composed' the whistled theme – the musical equivalent of a Stick Man – that was used on radio, in films and incorporated into the themes of the TV series, "meaning the composers royalties mounted up." Charteris wrote the newspaper comic strips, supervised the radio shows and even tried to mount a musical. Dickerson notes that Charteris was controlling, reproducing some of his argumentative correspondence with collaborators who failed to match expectations.
And yet, who can blame him? Writers are generally ripped off. Ian records an early attempt by Amalgamated Press, publishers of his Saint stories in Thriller to publish a knock-off called 'The Buccaneer' in The Pilot. The magazine's editor Hedley O'Mant was also the author of 'The Buccaneer' stories and explained that it was actually a 'parody' of The Saint which should have been accepted as a compliment. Dickerson notes that, "Leslie was in a tough position, for he couldn't take legal action against the firm that were publishing so much of his work." Some years later, Charteris did take action against an American magazine that had imported unsold copies into the UK, depriving him of British reprint rights. "Leslie sued, and (the publishers) settled out of court, but nothing of his ever appeared again in the magazine." Charteris entertained the quite unique notion that a writer should enjoy the majority of returns from his brainchild and was better placed than some random publisher or producer to determine what was best for that character.
Coming in at 358 pages, The Saint I Ain't delivers a fascinating level of detail. There are many revelations, some which may disillusion (particularly the 'woke'), some which will astound. More information on the Chinbeard books website https://www.chinbeardbooks.com/new-beard