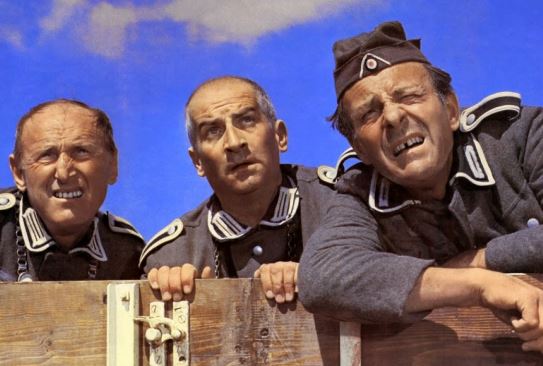 In war time Paris, three RAF pilots are helped to escape the Nazi forces by the resistance. Sir Reginald (Terry-Thomas) is guided out into the countryside by decorator Augustin (Andre Bourvil) and orchestra conductor Stanlislas (Louis de Funes)
As the Buddhists say, the greatest treasures are always in the next field. La Grande Vadrouille (1966) translated as The Grand Tour – is the fifth most successful film in French cinema, France's equivalent of The Italian Job. A dubbed version was released in England by Rank in 1968 under the title Don't Look Now…We're Being Shot At! (on a double bill with Don Knotts as The Shakiest Gun In The West ) and was screened on Scottish TV in 1995, but I'd never been aware of it. I only knew Andre Bourvil for his last role, the cynical Inspector Mattei in Le Cercle Rouge (1970), so it was a revelation to come across his more usual comic performance here.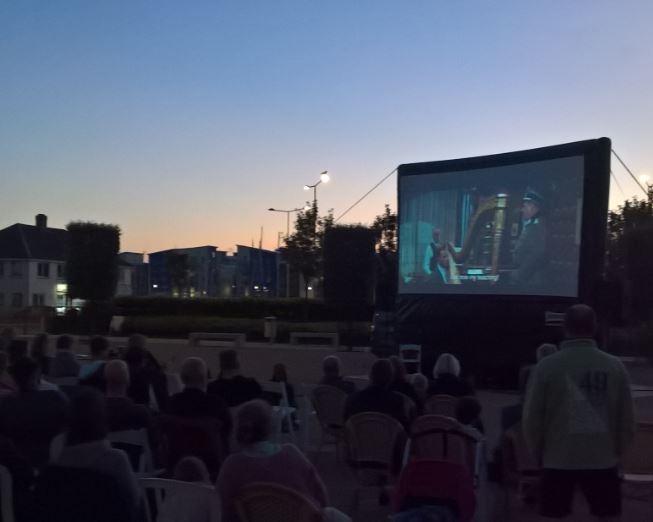 I came across La Grande Vadrouille on an inflatable screen in July 2017 at an open air screening in St Helier on the island of Jersey. It had been organised as part of a Chamber of Commerce festival promoting Brittany. They'd set out 50 seats in the Weighbridge area, but ended up having to beg more chairs from the hotels. As the light fell (and the temperature dropped) an accordionist got the mood going playing period tunes such as Riccardo Del Turco's Luglio, (1968) which the French know as Le Petit Pain au chocolat and the British know as Herman's Hermits' Something is Happening (yes, of course I had to look that up). See and Hear it here.
As the summer sky stubbornly refused to give way to complete darkness, DJ Stefan Rousseau introduced the film to the English audience, explaining that Bourville and Louis de Funes were two of the most popular comic actors in France. There were plenty of French families in the audience and their reactions made it clear that this was a much-loved ritual movie – you could sense the "Don't tell him, Pike" or "Only supposed to blow the bloody doors off!" scenes as they started by the anticipation of the audience.
If it seemed odd watching a comedy about World War Two on an island that had been occupied by the Nazi's, it was worth remembering that the film was made by people who had lived through the occupation of France (for them the timescale had been the same as setting a 2020 movie in 1996). And as the movie ended to applause at 11pm, with Georges Auric's soaring theme carrying us into the night, it was certainly clear that this was a feel-good film.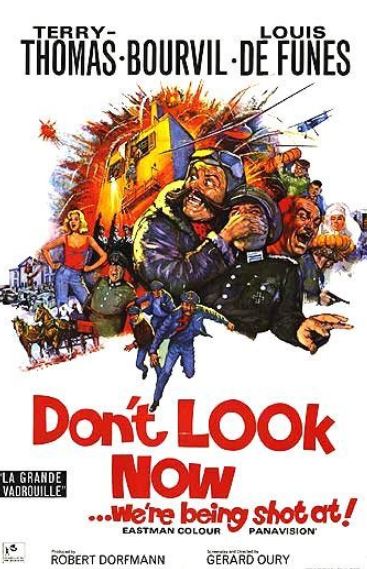 Gerard Oury's movie has the same surreal overtones as other international spectacles such as Those Magnificent Men In Their Flying Machines . Terry-Thomas' bomber crew includes Peter, played by Mexican actor Claudio Brook (who had just starred in Bunuel's Simon of the Desert) and American actor Mike Marshall (who would later play space ranger Colonel Scott in Moonraker) as Canadian Alan. When they jump from their blazing jet over Paris, Peter's parachute lands him on the scaffolding of decorator Augustin (Bourvil) while Alan lands on the roof of the Opera, where Stanislaus (de Funes) is trying to conduct a rehearsal. Squadron Leader Reginald (Terry-Thomas) parachutes into the seal pool of the Zoo.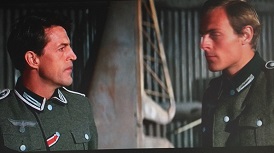 The three have arranged to meet at the Turkish Baths in the Mosque and both Bourvile and De Funes separately agree to go in place of the British airmen. This gives rise to the first of a couple of surprisingly risque set-pieces as the naked Frenchmen cruise through the steamy bath, whistling the signal of Tea For Two, trying to identify which of the affronted men they come across is 'Big Moustache'.
As a contemporary review (or the pressbook puts it), "Bourvil and Louis de Funes are famous French comedians who are continually trying to get one up on each other. The comedy ranges from understatement to slapstick and farce, and is mainly visual. Each incident is built up so that the anticipation of the joke increases its effect." Louis de Funes has an energetic range of tics and reactions – in an early scene in his dressing room he puts the wig he's been wearing while conducting on a head block. When he stabs the wig with a knife to keep it secure he feels a jab in his head – and disbelievingly keeps stabbing the block, hurting himself more. Bourvil is more innocent – visually and in manner he comes across like a Yorkshireman – the contrast between the middle class and working man is underlined in an iconic scene where de Funes has to sit on Bourvil's shoulders because he's too short to climb over a wall.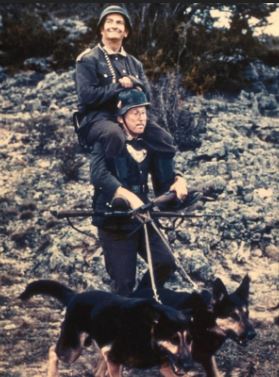 Once he's over the wall, Bourvil asks him to get down, but with an elated smirk de Funes' says he's fine, rapping with his fist on Bourvil's helmet to get him to change direction.
The pursuing German forces include Hans Meyer (later to star in the Colditz TV series) and are led by the increasingly frustrated Benno Sterzenbach as Major Achbach. Sterzenbach does a fine slow burn as he tries to interrogate the babbling de Funes and Bourvil, but eventually leads his forces into Keystone Kops level slapstick. Oury pulls all the strands together with support from cinematographer Claude Renoir and composer Georges Auric (Passport to Pimlico, The Titfield Thunderbolt).
17 million Frenchmen can't be wrong – if you've not seen it La Grand Vadrouille is an undiscovered classic.