Faced with the urgent need to dispose of an aubergine and some braising steak, I seized upon the chance to try out Simon Templar's Vache Espagnol – a French dish, despite the name.
The Saint tells us, "This recipe was given to me by the head chef of Hotel Le Provencal in Juan-Les-Pins. It was a family recipe but he renamed it La Vache Espagnol in memory of an incident my biographer recorded in The Saint In Europe. "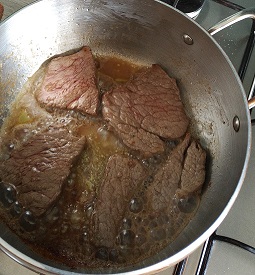 To serve two, skin and dice one aubergine, dust with salt and put to one side. Put 0.300 kg braising steak in a casserole dish and sear in a tablespoon of olive oil for 10 minutes. Remove the meat, and brown the aubergine in the juices, then set that to one side too. Saute a chopped onion and four cloves of garlic until glistening.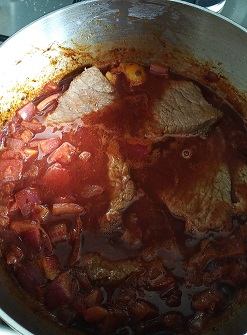 . Add a small tin (around 227g) of chopped tomatoes and a cup of Spanish red wine. Add the meat, cover and simmer for two hours. After the first hour, top up the juice with a large tin (around 450g) of chopped tomatoes and half a cup of Spanish red wine. After another hour (two hours in total), check that the meat is tender. When it's ready to go, add the chopped, browned aubergine for another five minutes, then turn out and serve artfully with boiled potatoes
Well, my technique may not be anything like the head chef's – but much of the pleasure in this dish is just smelling it as it cooks – the wine and the garlic infusing the meat and scenting the atmosphere every time I checked the pot. The big gamble was whether the beef was soft enough – but in this case it worked, and the meat and the sauce tasted every bit as good as it smelt. I may not be able to eat like a king, but I can try and eat like a Saint.