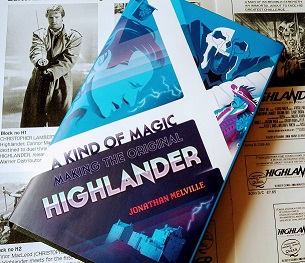 Jonathan Melville's A Kind of Magic covers the making of the 1986 movie Highlander, from the moment fireman Gregory Widen developed his UCLA screenwriting project 'Shadow Clan' to actor Clancy Brown's return to Scotland for the screening of a 30th anniversary restoration at the Edinburgh Film Festival.
Melville's book is an entertaining mirror image of the Highlander myth. In the movies and TV shows, the Immortals battle each other, the victor taking his opponents' head and absorbing their knowledge and experience in a mystic quickening until in the end there can be only one. In real life, Highlander won the prize through collaboration, as an army of creatives brought their expertise and understanding to a common cause.
"Screenwriting is about working with others," Widen's UCLA teacher advises in the chapter where screenwriters Peter Bellwood and Larry Ferguson explain how they put detail on Gregory Widen's original draft. Melville outlines that first script of Widen's which impressed enough to win him an agent and a cash offer from producers Peter Davis and William Panzer. And then he shows what Bellwood and Ferguson added. In a way, it's a little unfair because we're looking back at the creation of something we're already familiar with. Favourites like The Kurgan…The Quickening…There Can Be Only One..come from Bellwood and Ferguson, but it's building on the concepts Widen has created out of thin air. It's as if Widen is a sculptor who has created the body of Connor Macleod, and Bellwood and Ferguson are tailors who have created a magnificent costume for him.
The book is written with the pace of a thriller. For a film with an epic span of time and place it's incredible just how little time it took to get the film to completion. Three days of Sean Connery's expensive time (expanded to five to do it all again after a camera failure). Fight scenes begun in London and finished in New York. Sometimes – as in the make-up for Macleod's aging wife played by Beatie Edney – it doesn't going according to plan. There's always an ongoing battle to shave time from the schedule and money from the budget. "Can we put subtitles, " prosthetic designer Nick Maley asks, "I know this isn't very good but they only gave me three weeks." And yet, when the completed sequence (with some re-shooting) is screened for Queen it moves Brian May to the extent that he composes Who Wants To Live Forever on the car journey home, singing it into a small tape recorder. "It was the most uncanny thing. It doesn't happen often in your life."
At over 300 pages, this is literally Everything You Wanted To Know About Highlander But Were Afraid To Ask. An epic with a cast of thousands. Not just the stars, but the people who were there on the ground winning unique insights. Like Campbell Muirhead, who took on the job of stand-in for Christopher Lambert without knowing who he was ("..about 2.30 in the morning it suddenly dawned on me.."), and make up supervisor Lois Burwell ("Not everyone can say they got rescued..by Sean Connery.")
A Kind Of Magic: Making The Original Highlander by Jonathan Melville. Polaris Publishing Ltd, September 2020. RRP £16.99 ISBN 9781913538057 For more details go to http://www.polarispublishing.com/book/a-kind-of-magic