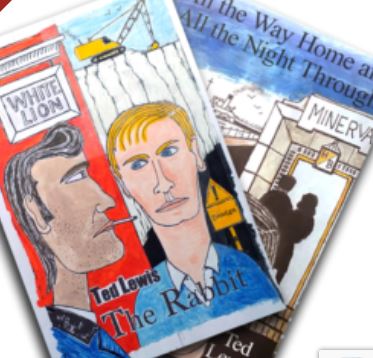 The Rabbit and All the Way Home and All the Night Through are two of the earliest novels by Ted Lewis, author of Get Carter. Long out of print, the two novels are now available in new editions from The Ted Lewis Centre, set up in his home town of Barton-upon-Humber.
While neither are crime stories, the sharply autobiographical novels give an insight into the character of Lewis and a foretaste of the world to which Jack Carter would return.
First published in 1975, The Rabbit is one of Lewis' later novels, but takes place in the 1950's and draws upon Lewis' experiences as a student working through the Summer holidays for the quarry managed by his father. Set in a small backwater village that will always be behind-the-times, The Rabbit has an authentic timelessness – only the sexual explicitness of one particular sequence clues you in to the fact that this was written in the 1970's, rather than the early 1960's. Otherwise the atmosphere is more Stan Barstow than Raymond Chandler, as Lewis' alter ego Victor Graves tries to win the acceptance of bullying workmate Clacker Harris.
All The Way Home and All Night Through is Ted Lewis' first novel. Published by Hutchinson in 1965, it recreates Lewis' life as a student at Hull Art College. We're lucky now to have Nick Triplow's Getting Carter which allows us to see just how closely Lewis exploited his early experiences. That's probably what's so remarkable about the book. Lewis makes no attempt to portray the central character of Victor Graves in a good light. He is both exploitative and self-destructive, intent on seducing and discarding female students at the art college, but also intensely jealous of their new relationships. Like Lewis, Victor seems to be something of a 'golden boy' at college, but the sheen wears off when he tries to find a job, and he endures living back with his parents, being 'subbed' by his father.
All the Way Home and All the Night Through certainly presents a fascinating picture of a late 1950's way of life that is – in some ways different and in others not so. The sexual excess is a bit of a surprise – the head librarian of Hull University told us that sex only started in 1963, after all. But the drinking possibly not. Victor is constantly drinking Black and Tans in the novel, which I'd never heard of, but it turns out to be a quarter of stout poured on top of three quarters of light ale (above). Could there be a more noir drink than that?
The Rabbit and All the Way Home and All the Night Through can be ordered from the online shop of The Ted Lewis Centre at this link