Proving you can never underestimate the ability of the British entertainment industry to shoot itself in the foot, the 1998 TV series Ultraviolet looks even better today than it did in its original 6 episode run on Channel Four. Written and directed by Joe Ahearn (later to direct Dr Who and adapt James Herbert's The Siege of Crickley Hall) the series about a secret Vatican-funded agency hunting down highly-organised vampires, rarely puts a foot wrong and is lent an extra veneer of prescience when viewed in Lockdown Britain .
The opening episode Habeas Corpus (15 September 1998) kicks off like a stylishly night-shot episode of The Professionals .Detective Sergeant Michael Colefield (Jack Davenport) drops his drunken partner Jack Beresford (Stephen Moyer) home on the eve of his wedding and then agrees to meet an informant at a late-night amusement arcade. The informant is shot, and Jack pursues the killer into the underground but walks past him when the killer pauses at the corner of a tunnel and shows no reflection in the safety mirror at the entrance.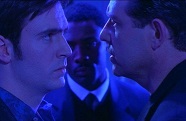 Jack fails to show for his wedding and two internal investigators from CIB2, March and Rice (Susanna Harker and Idris Elba) question Michael about Jack's disappearance. Jack contacts Michael and begs him to keep quiet, saying the CIB officers are part of a death squad. Michael initially believes Jack when he sees Rice lead a machine gun attack on the man who killed his informant. In a remarkably assured first hour, Jack Davenport convincingly moves from incredulity to belief as he learns from Father Pearse Harman (Philip Quast) that March and Rice are part of a Vatican-financed group hunting vampires. Immortal and well-organised, the Code Fives (Code V's) or Leeches are working behind the scenes to control society. The future of our descendants is in battery farms, Pearse tells him, "Our Free Range days are over."
Even though the Code Fives can be atomised by guns firing wooden bullets, they are capable of regeneration, and their ashes have to be stored in a high-tech prison. March, a doctor specialising in blood diseases, tells Michael that the Jury's still out on crucifixes and holy water. "A bit like Homeopathy – A matter of faith on both sides…they can be superstitious too." Although the Leeches burst into flame when touched by sunlight, the more audacious ones are able to drive around in daylight if their cars have UV tinted windows. While they can't use mobile phones (for the same reason they're not captured on CCTV) they can communicate with digital voice communication systems. And they also have plenty of human collaborators. "They have a way of finding out what you want…The mid-30's are the prime recruiting ground. It's when we start to realise it's all going to end."
Rice, a former soldier who survived a vampire attack during Desert Storm, tells Michael that, "They're obsessed with virus', diseases, anything that messes up their food supply." The Code Fives carry out medical research into Sickle Cell Anaemia, Cancer, but their motives aren't benevolent. As Pearce reminds Michael – "When we first identified BSE we didn't look for a cure – we just culled the threat to the food chain".
Viewed from the perspective of COVID 2021 and initial arguments over "Herd Immunity", Ultraviolet has a renewed irony. The show portrays a secret, hyper-efficient alliance between the Church and State but anyone with concerns about civil liberties can be assured it couldn't happen here. Certainly the less-than-efficient Track-and-Trace alliance between the State and Serco would seem to support that.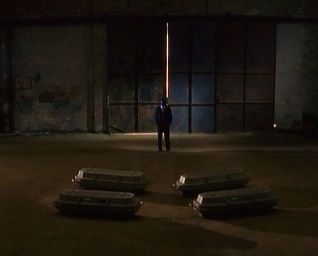 Each episode of Ultraviolet is fast-moving and engaging. It was written at a time when actors were still given dialogue that progressed ideas and emotions rather than smart-arse one-liners. But if I had to single out one moment of sustained suspense, it would have to be the fifth episode Terra Incognita . It is an episode that builds, in an intelligent way, on Bram Stoker's Dracula – specifically the sequence where Jonathan Harker tracks the audit trail of coffins which Dracula has imported into England. But a moment of vivid originality comes when Vaughn Rice is whacked on the head, and wakes up to find himself trapped in a warehouse with four of the coffins he's been searching for.
Electronic Timers countdown the minutes until the coffins will automatically open. Rice still has his mobile phone, but that only tells him that help will be too late. He still has his gun – but it only has one wooden bullet. Ahearne ramps up the tension with cross-cutting as Rice phones March to make a last phone call and then hangs up with nothing to say. What would you do? What WOULD you do?
In a just world, there would have been more than one series of ULTRAVIOLET. But no, this is England, after all.