Strangers and Brothers, BBC2 1984). Produced by Philip Hinchcliffe, and adapted by Julian Bond, the 13 part adaptation of C.P. Snow's novels (also known as 'The Corridors of Power') only really comes to life with the episodes based on 'The New Men' – a fictional account* of Britain's wartime race to develop an atomic bomb. Shaughan Seymour (below right, with Stephen Riddle) is solidly convincing in the poisoned chalice role of repressed narrator Lewis Eliot who has to spend the entire series observing other characters getting all the best lines
*details were still covered by the Official Secrets Act, so Snow's atom bomb project is not just fictionalised but disguises actual details such as the location of the project.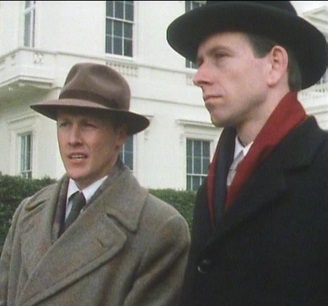 The early episodes trace Lewis Eliot (Seymour) making his slow progress from law student to University don. Eliot encounters some lively characters, a rogueish barrister played by Neil Stacy, and radical solicitor George Passant (Tom Wilkinson), But the marriage of repressed Eliot and depressive Sheila (Sheila Ruskin) runs like a flinty core through the early episodes until her heart-breaking suicide. Episode 5 adapts 'The Masters' which had already been a West End stage play and is entertaining in its own right (John Carson and Clifford Rose vying to be next Master of their college.)
STRANGERS AND BROTHERS only catches fire with episode 7, adapting 'The New Men'. During World War 2, Eliot Getliffe (Paul Hastings) and Rose (Edward Hardwicke) are tasked by the Minister (Geoffrey Chater) with setting up Mr Toad – Britain's atom bomb. Made at the height of 1980's nuclear paranoia, director Jeremy Summers casts a bleak tension over the fictional British atomic bomb project, as scientists slowly pour heavy water into the pile.
When Project leader Luke (Paul Hastings) and idealistic scientist Sawbridge (Nigel Leach) are accidentally exposed to the plutonium, the depiction of radiation poisoning is matter-of-fact but unsettling. Through swollen lips, Luke confides to his wife Nora (Vivienne Ritchie) that no-one really knows what the consequences will be.
Unlike Sawbridge, physicist Mounteney (Gareth Thomas) has always taken a matter-of-fact approach saying he enjoyed science for its own sake without thought of the consequences. Appalled at the thought of the atom bomb he's helped develop actually being used, he leads the project scientists in demanding that Eliot take their fears to Government. But Elliot's dilemma is resolved by the Americans, who have developed and dropped the first atom bomb.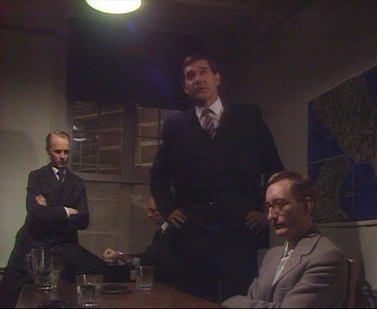 Major Darling (Simon Oates) suspects that the idealistic Sawbridge ( Nigel Leach) has leaked atom bomb secrets to the Russians. Darling tries to get a confession but admits he likes Sawbridge. It is Eliot's ambitious brother Martin ( Stephen Riddle) who finally pushes Sawbridge to confess. Martin confesses to Lewis that while Lewis hides his feelings, Martin really does not care about other people. "Sometimes it's only the cold who can be effective."