YOU MAY KNOW VWORP VWORP! as a lavish fanzine about Doctor Who comics – but issue 4 (September 2021) is much more than that. Off the record, on the QT and very hush hush, it delivers an exclusive insight behind the front page of TV Century 21, under the control panel of Countdown and even sneaks past TV Comic's commissionaire.
Doctor Who is the thread – of course – but editor Colin Brockhurst uses it to link the great photogravure comics of the 1960's and early 1970's – TV Comic, TV Century 21, Countdown and TV Action. I was going to list some of the people interviewed or written about here, but every time I thought I'd got something definitive – another name pops up – I just noticed a contribution from Len Deighton for Pete's sake.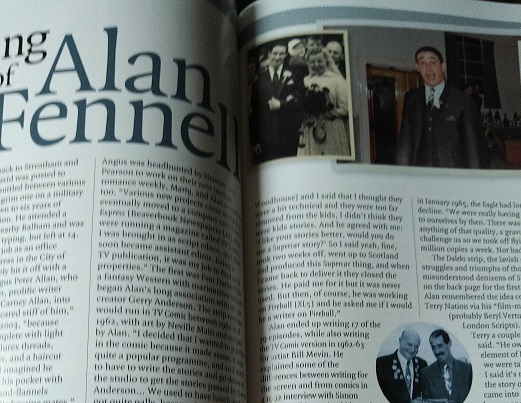 There's a fascinating and comprehensive article on Alan Fennell – founder-editor of TV 21 and Look-In, which delivers a lot of previously unreported more detail about his life and career – and has some lovely family photos. And who would have guessed that he actually wrote some Dr Who comic strips?
There's also an article on Dennis Hooper (art editor TV21, editor Countdown) by his daughter Beth, which again fills in a lot of blanks and gives an evocative picture of Hooper as both a family man and employer.
Colin also managed to track down Pete Corri, lettering artist and logo designer on TV21 and now, as he says, last man standing from a partnership with Fennell and Hooper to produce the Bump the Elephant cartoon series in the 1990's. And Richard O'Neill, who succeeded Angus Allan as script editor on TV21.
But really, there's an amazing level of depth and breadth of detail here – articles on Gerry Haylock, Harry Lindfield, Dick Millington, Martin Asbury, Frank Langford, John Canning, Bill Mevin ( a friend of both Barry Gray – the Thunderbirds composer and comedy scriptwriter David Climie – first editor of the British edition of MAD), Roger Noel Cooke, the enfant terrible responsible for Ken Dodd's Diddymen, And I've only stopped there because my fingers were tired. Who would have thought that Roger Protz of CAMRA and the Good Beer Guide wrote some Doctor Who strips? And there's even an illuminating article on Tom Woodman, the mysteriously credited author of the Adam Adamant Lives annual .
It would be wrong to say this is all about the comic strips. The anecdotal life stories come together to create a picture of a generation – raised in the insecurity of war and poverty – coming to adulthood in the 1950's and 1960's, balancing the need to ensure a secure income with the urge to express themselves. However important their work was, you get the impression that their main aim was to ensure that their own disrupted childhoods would not be repeated – the articles written by family members are done with true affection.
The lead article by Simon A Brett deals with the members of The General Illustration Company , the art studio which helped Terry Nation realise the 1976 Doctor Who and the Daleks Omnibus, published by Marks and Spencer. Once again we experience the dying of a true golden age, before computers eroded the need for physical art. "Typesetting became an everyday process now handled by one person at a desk. The skill of the paste-up artist was replaced by software and sadly illustrators weren't needed in quite the same way anymore." Pausing to reflect that a publication as rich in type and images as VWORP VWORP! would probably have been impossible to put together in the old days, there's still a sense of sadness as illustrator Ivan Rose is asked to advise a new generation of artists. "It's not the same now. What I came through has nothing to do with the industry now…who does book jackets, who does film posters? They're all done by computer."
Vworp Vworp! Issue 4 £9.99 but selling out fast https://vworpvworp.co.uk/volumes