Eine Kleine Nacht Musing – Dr Terror on A German Life at the Bridge Theatre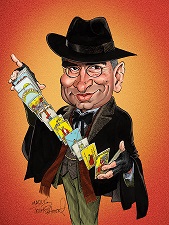 A universal standing ovation for Maggie Smith was thoroughly deserved. For an uninterrupted period of over an hour and a half, she had sat and talked, bringing to life the enigmatic and unassuming figure of Brunhilde Pomsel who had been a typist for Josef Geobbels,
an ordinary cog in the Nazi machine.
It made for deeply uncomfortable viewing (do you laugh at some of the evident ironies that hindsight affords, including her assertion that, of course, nothing like that could happen now? Some did, but it was more a release of stress than anything else). Thoughts
about the 'banality of evil' and Edmund Burke's assertion that for it to triumph, it is only necessary that the good do nothing dominated your thoughts.
Based on a 2016 Austrian documentary film interviewing Pomsel herself, aged over a century, Maggie Smith's performance was utterly convincing and, talking directly to the audience, seductively understated. Suggesting she was merely caught up in events of the
time, every stutter, every pause seems to carry meaning. There is regret but nothing you could really call remorse – even a sense of having been mistreated. There is the evident fascination with the rallies, the propaganda and with Goebbels himself. How much
blame should attach to her and others like her?
The script initially called for filmed excerpts but these did not feature in the finished staging. Instead sound was used at various times to suggest the atmosphere of the times and subtly so. It was the right decision – it did not distract from the intimacy
of the staging as her lone figure sat in a room and talked and talked. Gradually, the light outside grew thinner until darkness came. It matched completely the mood of the revelations.
It was an astonishing portrayal, all the more disturbing for its understatement.