The biggest problem with A THRILLER in Every Corner, Martin Marshall's unofficial and unauthorised guide to Brian Clemens' 1970's TV show, is that every chapter tempts you to stop and rewatch another episode. At 732 pages covering 43 hour long episodes, that's quite some stop and start!
The dictionary definition of "exhaustive" is: "Thorough, treating all parts or aspects without omission," and A THRILLER in Every Corner certainly meets that definition. THRILLER was first broadcast by ATV in the 1970's. Viewers knew it had been sold to an American TV network, the money coming handcuffed to an American guest star in almost every episode. Insomniac tele-addicts were also perplexed to see the THRILLER episodes resurfacing on late-night TV in the 1980's, masquerading as TV Movies with dire extended title sequences. But Martin Marshall has put every piece of the jigsaw together to reveal a fascinating sequence of events.
For the first time (for most of us) it's possible to understand the origins and format of the ABC Wide World of Entertainment late-night strand that gave THRILLER (and also Monty Python) its exposure in America. And there's a lot of side-detail which doesn't directly relate to THRILLER but is nonetheless intriguing. Two episodes of the BBC's Quiller TV show starring Michael Jayston* played out in expanded form on Wide World of Entertainment for instance. And the gruelling Yorkshire TV play The Break (1974) starring Robert Shaw turns out to have been part of a two play deal with David Frost to provide product for ABC (the other, Who Killed Lamb, starring Stanley Baker, still survives on the THRILLER box set).
*I've been reminded that Michael Jayston also starred in two classic episodes of THRILLER – 'Ring Once for Death' and 'A Coffin for the Bride.'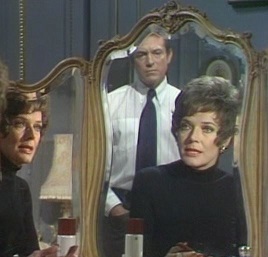 Despite the level of detail, Martin Marshall has structured the book with plentiful and clear subheadings so that you can follow it in chronological order, or dip in to the sections that interest you. The book is also written in a straightforward but engaging style so that you don't tire of it, even if you glance at the clock and suddenly realise it's two in the morning.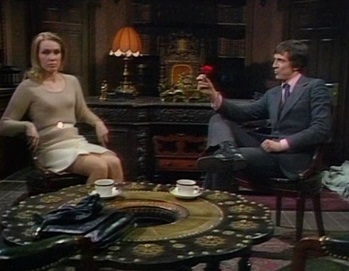 Sadly, many of the participants are no longer with us, but the book does include comments from a number of actors and technical crew. Norman Eshley, who played Carnation Killer, Arthur Page in The Colour of Blood provides a fascinating insight into this emblematic early episode (the lack of an American guest star appears to have been down to illness on the part of an actress, with Katharine Schofield having to step into the part without rehearsal). I've already noted the temptation to stop reading and screen the episode you're reading about as you learn something new. As Marshall says, Norman Eshley is skillfully disconcerting as the killer, in a script which pulls you right around at least twice, just when you think you know where the story is going to go. The paragraph on page 146, in which Brian Clemens relates the inspiration for this episode is a satisfying little thriller in itself.
The book delivers a comprehensive rundown of the history of the show both during its initial run and afterwards. I was surprised to learn that the TV Movie versions shown on British TV in the 1980's weren't part of the original American broadcasts but the result of a bid by ITC's US arm to squeeze extra mileage out of the product.
THRILLER was made on tape rather than film (albeit with 35mm, rather than the usual 16mm location film inserts). That appears to have been a budgetary consideration from ABC itself (the timeslot was previously occupied by a chat show) and we learn that even Universal started recording TV movies on tape to fill this slot. This is probably the biggest single barrier to modern audiences, raised on film. However, Martin Marshall puts his finger on the appeal of of taped shows; "(the) feeling of 'immediacy'. Two interlaced fields for every picture provide an 'as live' visual texture…as if one is gazing in a mirror or across a room." Terror is never further away than a stretched fingertip – that's a THRILLER.
A THRILLER in Every Corner by Martin Marshall is £28.88 from Lulu.Com at this link